Down to go thrift shopping in Amsterdam with African vibes? The fashion duo 2MANYSIBLINGS are brining their once in Nairobi started concept "Thrift Social" to the capital of the Netherlands. Prepare for an event where fashion, music and culture come together.
For someone who has just been living in Nairobi for two months, the Thrift Social events did not go by unnoticed. Without a doubt, this is the biggest fashion & lifestyle event of the city. Their last event clearly showed that dress codes at Thrift Social are taken very seriously – and makes clear that this is the place where Nairobi's finest style icons and artists come together.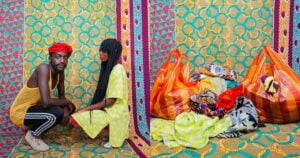 However, pioneers barely ever stay in one place. In the past years, Thrift Social passed by London, Tokyo and up next is Amsterdam. Together with Kamelon Concepts the Amsterdam version works together with brands such as L'Origine, MY TRIBE, Urban African Naturals, Vintage Jungle – and many more at Het Tropenmuseum on the 15th of April.
If your current wardrobe does not need an update, no worries. There's a full program with other activities from 12:00 to 16:30.
Q&A with 2MANYSIBLINGS | 13.00
The siblings Velma Rossa and Papa Petit – the founders of Thrift Social, have always had a thing for secondhand clothing. By starting their Tumblr 2MANYSIBLINGS, they developed their unique style by sharing their love and interest in art and photography. Ever since then, the concept got known among many, and the two words "Thrift Social" became a term in accordance with creativity and good vibes. Listen to their story to get to know more about the and their views on African fashion in western countries.
Samosa workshop | 12.00 – 13.00 & 13.15 – 14.15
Whether you are Asian or African – everyone knows samosa/sambusa, If you're one of the lucky ones whose mom never forced you to help preparing them, you can join a samosa workshop by Mama Kenya. Maybe you can even impress your mom afterwards!
https://www.instagram.com/p/BhKPbjuDZSn/?taken-by=mamakeniaamsterdam
Q&A Carien Westerveld | 13.30 uur
Last year, Carien wrote De Afrikaanse Droom (Dutch for 'The African Dream") about the upcoming middle class in Nairobi. After living in Nairobi for years herself, she dived into the life of young Kenyans: what is the role of creativity for them? And what are their perspectives on identity after years of colonialism?
Masterclass sustainable challenge | 14.30 – 15.30 uur
Personally, if I may: this is so so so important. The current generation is in a constant struggle of wanting to look fashionable and being aware of their environmental footprint at the same time, which can sometimes even lead to hardly considering the sustainability of the clothes we wear. Thrift shopping and swapping can be part of the solution. Together with Fatima Essahsah (Amsterdam Fashion College), Roosmarie Ruigrok (Fashion Revolution Netherlands & Founder Clean&Unique), Mila Ernst & blogger Lisa Whittle (Modemuze) you can be part of the Sustainable Challenge!
There are also Museum tours throughout the whole afternoon, Fashion Cities Africa is still running!
Not any plans for the weekend yet? Make sure to come by! Or if you do have other plans – make sure to cancel them.
More information in Dutch can be found here and tickets here.
Also, make sure to check out the siblings on Facebook, Instagram!