Now we all have love for Netflix regardless of your skin color or sexual preference but what's more mention worthy is how much Netflix loves us. Not only me a Muslim/Plus size/African woman but everyone. They repeatedly show that by the inclusivity in their Netflix Original series and movies. For example Sense8, Dear white people, Orange is the new black, Luke Cage, Narcos and the list goes on.
However Netflix is spotlighting there black talent. Bringing together 47 of their leads for a special promo that aired during the BET awards on Sunday
The promo titled "A Great Day in Hollywood," celebrated the growing diversity of Hollywood in recreating Art Kane's famous photo "A Great Day in Harlem," an image that captured the golden age of jazz in New York City's Harlem in 1958.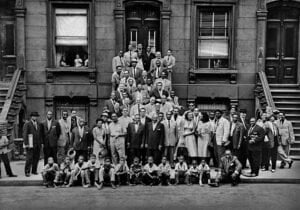 It had reportedly been in the works for months and was directed by Lacey Duke and shot by Malik Sayeed, aired days after The Hollywood Reporter revealed Netflix fired PR chief Jonathan Friedland for using the N-word in a meeting with staffers.
It also marks the latest efforts from Strong Black Lead, a group of black executives at Netflix that "represents an intentional focus from Netflix to talk authentically with the black audience," the company's director of brand and editorial, Maya Watson Banks, told The Los Angeles Times. "Strong Black Lead is relatable and real, always unapologetically black, and assumes context and knowledge so that content doesn't need to be watered down."