We all know how Monday's can be. It's the day of a new start and new beginnings, but it can also be stressful. You might have to deal with a workload you don't even enjoy, while in your 'wildest dreams' you are doing everything you love. We might have many plans to start our own thing, our very own businesses, but we don't always feel motivated to get up and do what it takes to make 'the dream work'. It might seem impossible, but we can all turn our deepest desires into something tangible. If only we are willing to do the work. From now on, on Monday, we will show some business motivation for you. Just to let you know that you can start where you are and with what you have. In these series, we will introduce black business owners who have started with nothing more but a simple plan and are now making a living out of something that makes their hearts beat a little faster but with a whole lot more joy. Be prepared for some next level motivation on every monday. #LEGGO
MMOD: Mondjevol
We all know the drill when it comes down to attending a 'black people' party. The bells and whistles, the matching outfits, but most of all THE FOOD! Though we all love the taste of 'springrolls', pastry and satay, little by little it gets a bit predictable. Apart from that, kids are not always amused to see nobody figured they might want to fill their belly's with something that is cooked especially for them! Shanice Esajas, founder of 'Mondjevol' saw a gap in the market and came up with a party catering concept you all have never seen before.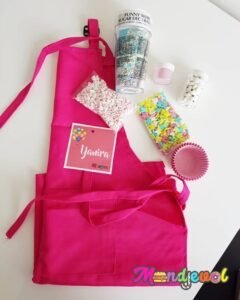 Shanice simply loves food. She loves expirimenting with it and she especially likes to share whatever she works out in the kitchen with everyone who is willing to sit at her table. It is not only delicious, it looks so pretty you almost don't want to touch it! This love for food and decorating it quickly turned into a hobby and slowly but surely everyone around her started to ask her to work her magic at houseparties. She made sure the bites looked fingerlookinggood and in her cooking she always thought about the adults ánd the children.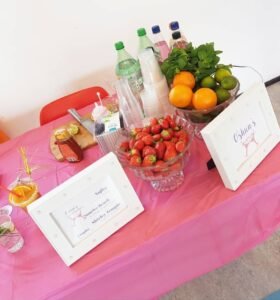 This year she decided to turn her hobby into a business and started 'Mondjevol'. It made sense to her because she always loved food, she loves to attend parties, she also loves kids and besides, she hadn't seen anything like her concept before. At first she was in doubt, because she didn't know where to start, but after researching and helping out on parties of friends and family she was sure she just had to start! So then there was Mondjevol, (kids)partycatering and foodworkshops, just a little different than we are used to. The regular partycatering concept gets an unique twist and every single bite is completly out of the box. The menu's are in tune with your partytheme and kids are the center of the whole concept. They love hotdogs, milkshakes and donuts, so that is what they get, but the fun thing is that the menu's are customizable. This means if you have a jungletheme, you get green milkshakes, but if you are into rainbows, all colors will be included! Also, the kids get the change to do all type of creative stuff with partyfood during the workshops.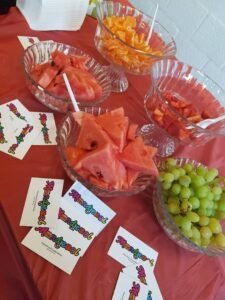 Yes, Mondjevol takes complete care of the bites and drinks and service is included. And when we say 'service included', we mean INCLUDED, cause she doesn't only provides for foods and drinks, she actually serves you and your guests first hand. All you have to do is give an indication of what you have in mind, and from there on you can sit back, relax and watch her take the whole thing over! Let's give you a little idea of what's on the menu:
• Milkshakes
• Hotdogs
• Donuts
• Fruitsalads
• Cocktails
• Waffles
Every thing on this list is adjustable and totally in tune with the partytheme and in the meantime the kids can get busy decorating: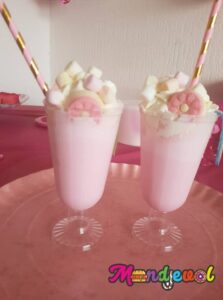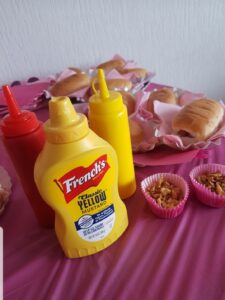 • Icecream
• Cupcakes
• Cookies
• Pizza
What is really fun about the concept is that you can mix and mingle all of the above, everything is negotiable!
Having her own business is a whole new experience, but she enjoys every bit of it because she is passionated about it and gets energy out of creating new party-ideas and truly loves unique and well-presented food. While starting a business, it is important to just start with what you have, to aks for help from friends and family and make sure to do some pilots and try-outs. Make sure you distinguish yourself from the majority, try new things and always stay refreshing with your offer! Talking about 'offers', check out Mondjevol's Facebookpage for a complete overview of the menu and workshops. Soon more info will be online on: www.mondje-vol.nl