Call me old-fashioned but I don't fucks with the 'chains, Bugatti's and million dollar rings' kind of hiphop. I fell in love with the hiphop of Common. The way he used a beautiful woman as a metaphor in his song I Used to Love H.E.R for hiphop, sums up my love for the music.
Right when hiphop and I were on a relationship break (because of the hype lifestyle and lack of message), a new obsession came walking into my life in the form of reality TV. Never knowing it was possible, VH1 or shall I say the mastermind behind it all, Mona Scot Young, renewed my love for music by announcing the release the series Love & Hip Hop. A show about the women in the hiphop scene.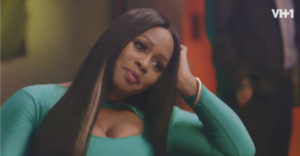 Ever since the first episode of Love & Hip Hop, I was hooked. Relationship dramas, loyalty issues, business, music and last but not least the juicy fighting. The ladies (Joselin, Cardi B and Momma Dee are my fav) and some men were becoming a household name because of this series. Love & Hip Hop became one of my favorites. It was bitter sweet, because somehow I expected more from it. I thought that this series was about the strength of these women and good impression of how it is to be a woman in a male dominated industry. I thought I would find the message in the music I was looking for.
But unfortunately it has more become a show about high school like fights about he said, she said. It kind of reinforces the stigma of women being very envious and judgmental towards each other.
[pexflash pex_attr_src="https://youtu.be/YgveQJmKSmY" pex_attr_width="500″][/pexflash]
On the other hand, it has also opened up a world of women I never heard of and who were very entertaining. One of my favorite has been Cardi B. A young lady on the show who finally didn't take herself so serious all the time. But every time she had screen time she was busy managing her relationship with her incarcerated boyfriend and trying to "clean" her image up. With the classic TV moment at that time when she followed an etiquette lesson.
[pexflash pex_attr_src="https://www.youtube.com/watch?v=aetQnrH8JHc" pex_attr_width="500″][/pexflash]
What I didn't see coming this year was the fact that Cardi B would rule this summer. I never got to see her shine as an artist on the show. That's why it was surprising to me that she went on to write history by becoming the first solo female artist to reach number one since Lauryn Hill. Can we all just have a moment to let this one sink in. Apparently all the female rappers who have had number 1 hits in the last 20 years were all with featuring artist. I was rooting for Cardi this summer hoping she would dethrone Taylor Swift, just to write history and make that schmoney!
[pexflash pex_attr_src="https://www.instagram.com/p/BZfeGWzhTxT/?taken-by=iamcardib" pex_attr_width="500″][/pexflash]
To quote Remy Ma: "As women, as artists, we can come together and rise above all the pettiness and cattiness that's been going on in this (hip hop) industry." This week the new season of Love & Hip Hop NY started and we might have a shot of seeing more woman empowerment this season. As for my love of hiphop, we are back on track. What this show has taught me is to not be judgmental. I might not like how hiphop I evolving, but if I just do my research and my love for the music I grew up on I am still loving this genre all day everyday!